Welcome to the world of Hornspeakers!
Horn loudspeakers still represent the pinnacle of what is physically and technically feasible in the field of electro-acoustic conversion.

We, the Loudspeaker-Manufacture Heyder have been taking on this challenge for over ten years now. With countless implemented projects and satisfied customers, we have become the largest contact point around the topic of horn speakers made of solid wood & custom-made Projects in Germany - Thank you!
---
LMH Exclusive
Discover our exclusive Horny Series

---
More than a Speaker - a Statement.
We proudly present our benchmark.

Over 10 years of development time, together those involved look back at over 100 years of experience in speaker construction.

Just more than a speaker - A statement.
---
LMH Horns
Exclusive solid wood midrange & treble horns
Extremely low resonance - naturally unadulterated sound!
For the sake of the environment & the sound - made of solid wood in an elaborate process especially developed in house.

Made especially for you and individually adapted to your needs.

An audible difference!
---
LMH Classics
Selected classics - improved and modernized
Better than the Originals.
Handmade in our own manufactory with great attention to detail.
The manufactory
Custom-made products, individual parts & small series


---
Directly from the Specialist. Made in Germany.
In our modern equipped manufactory we also offer complete custom-made products as well as CNC milled single parts and small series.
Ask us!
The Technique
Hornspeakers
Our speaker systems are subject to the constant pursuit of perfection - so inevitably horn systems are used in the development.
Unachieved Dynamics
No loudspeaker concept is faster and at the same time more dynamic than horn systems.
Maximum efficiency
Our horn systems all have such high efficiency that even tube amplifiers with the lowest power come into their own.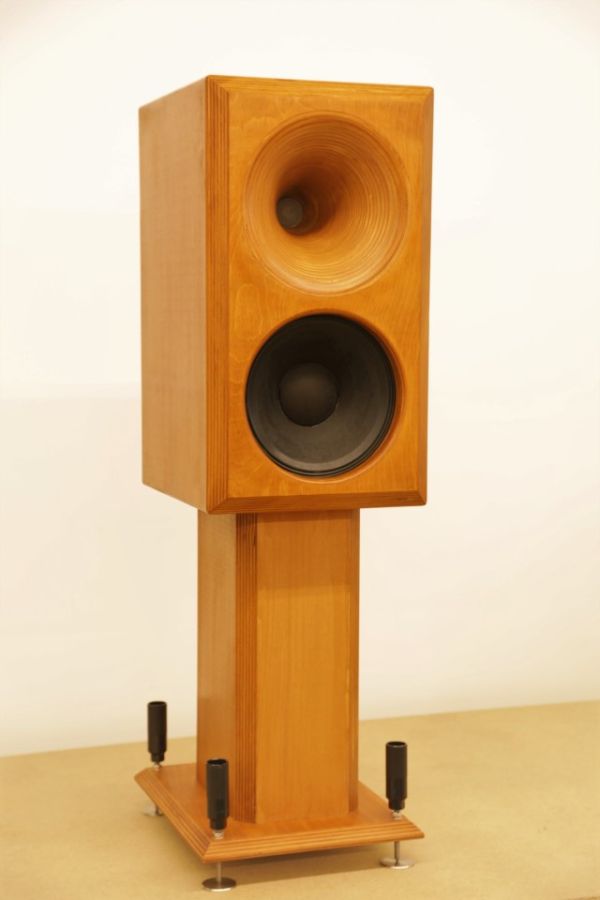 Universal & contemporary
Together with our DSP Systemamps a complete all-in-one solution without compromise.
Best Hardware
All our drivers are either specifically made for us or carefully selected with an eye on what is technically feasible.
Naural Sound
The consistent use of solid wood reduces sound coloration caused by cabinet resonance to an absolute minimum.
Modern & timeless Design
Anyone can do simple.

Our loudspeakers are planned and developed using the latest software.
The production is done where necessary with high-precision CNC milling under the lowest tolerances.

Anyone can do plastic.

Our loudspeakers and horns are consistently manufactured in solid wood to the highest standards.
Sound colorations due to cabinet resonances are reduced to an absolute minimum.

You can hear that!
Made in Germany - everything in house

The complete scientific development as well as the technically demanding production has always been carried out under one roof. Of course, this always presents us with great challenges, but offers at least as much freedom for alternative thinking and promotes innovative approaches.
All in all, this approach allows us to guarantee you a consistently high quality of the end product - right from the very first step.
Perfection to the smallest Detail
" Craftsmanship perfection & one of the most beautiful of all arts - a symbiosis that has fascinated us since time immemorial."
We are a family business from the heart of Baden Württemberg with the claim to produce outstanding sound furniture in every respect - Simply as if it were our own forever - No more and no less.
Our focus is on detail, on the search for perfection from the choice of materials to the finish.
Sustainable use of resources
Environmental protection concerns everyone!

In general, we pay strict attention to using only products that are absolutely harmless to health.
We obtain all of our raw materials directly from certified manufacturers.

We support reforestation projects within the framework of our foundation.

Don't just listen listen to music any longer, start to experience it...
Horn loudspeakers still represent the pinnacle of what is physically possible in the field of electro-acoustic conversion.

In particular, the enormous efficiency ensures an incomparable musical experience even at the lowest power levels.
Experience the difference!